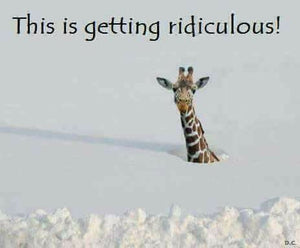 The Beast From The East !
So when our Consett friends, (whom happened to have emigrated to Dubai  8 years previously) said that we would either love or hate living up here in this little oasis.- Known for having its own weather climate, where the snow settles on the ground for at least 6 months  of the year, -we were keen to see if we had what it takes and embraced the start of Winter, with our new boiler installed and plenty of firewood.   

But nothing would prepare us for the Beast from the East. The warnings were clear. Hunker down they said.  We were ready. And then it came. Tonnes of the stuff. Fluffy and white driving in from every direction. Every night Bev and Jane would drag the fence panels across the alpaca pods and every morning dig them back out again.

Repairing burst water pipes became a daily chore, as was digging out reckless 4x4 drivers who thought they would make the 7 foot snow drifts along the lane.  Still preparing the piggy paddocks, we chose to rent out our large field to a friend from Scotland for his breeding sheep stock and his old  Ewe Margaret. We took it upon ourselves to do daily checks of his livestock.  Digging the stranded ones out, distributing the supplements and breathing life back into the ones where we could.  This was a serious reality check. 

But Margaret made it through and so did we.

---