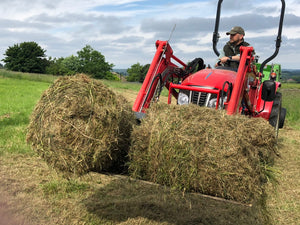 We ARE Farmers!
So there it was, the seed was planted over a boxing day meal with my in-laws, "wouldn't it be lovely to own a smallholding" my mother in law said, to which I replied "yes, Garry and I could work during the day whilst you pottered around, and we could all tend the farm on the evenings and weekends"…. Oh how life was different then, in our semi-detached house in Sunderland. (Countryfile has a lot to answer for!)
Then in June 2015 our dreams were realised. Bushblades Farm popped into Garry's search on Zoopla and after a protracted purchasing process we moved in in June 2017.  Garry's mum and dad decided that the farm annex could be made into a suitable abode and very shortly thereafter did just that. With aspirations of growing our own produce, a focus on the rare breeds, Ann's dream of owning her own alpaca herd and aiming for full organic status, we started planning how we were going to get off the starting blocks, given that none of us had a clue about 'farming' in the real sense (book farmers only).
One look at the field and it was immediately obvious…
our old grass cutter, wasn't going to hack it !

We had hardly unpacked the kettle and cups before Garry and his father Bev breezed into the kitchen with a brochure of their first purchase….the workhorse  So that was it, we were now officially farmers!!!

Jane needed to find out what was under the blanket of ivy that surrounded the back wall to the yard. "I think there's an outside toilet in there somewhere" the previous owner glossed over, as he walked us round the garden during our initial tour.
To our lovely surprise we uncovered 3 outhouses and a curved structure, which we think was some sort of kiln, but later became our hen coup.

They were becoming far too familiar!!

---